Asda 2 Fishing Guide
Asda 2 Fishing Guide by SomeDuckLovingGeek
Hello, and welcome to SomeDuckLovingGeek's guide to fishing! You may see me on Asda 2's channel 2 as Taiyuh or Kirstin. Now that we've put formalities aside, let's get started. So, you want to go fishing, eh? Well, this guide will tell you everything you need to know to do so.
Table of Contents
I. Finding Fishing Spots
II. Buying Supplies
III. Getting Started
IV. What to Do with All this Fish?!
V. Crafting
VI. What Can I Get from Fishing?
VII. FAQ
VIII. Final Words
I. Finding Fishing Spots
While running around Asda, you probably already seen places on the map with a fish icon, that looks like this:
Those fish symbols indicate places where you can fish. The fishing level requirements for each of these fishing spots are listed in the table below:
Of course, to fish, you will need some supplies, namely a fishing rod and bait. Lots and lots of bait.
II. Buying Supplies
But where can you get these supplies? Well, there's a kind merchant in Rein River who wil sell them to you! Her name is Arshes, and she will sell you fishing poles, various types of bait, and also various recipes for you to craft your fish into very useful objects (this will be covered in the section on Crafting).
Arshes can be found here (coordinates x:082 y:371):
To get to Rein River from Alpen, use the portal here (coordinates x:117 y:397):
Or, you can use Alpen's teleport crystal, shown here:
III. Getting Started
Now that you have all your supplies, it's time to go fishing. When you find a fishing area, find a place in the water where you can see little fishies swiming around, like this:
Fishing can be done by the side of the water, off of bridges, or even when you're on the water! When you fish on the water, it shows your character standing on the water. This seems to be very appealing to many fishers, as you rarely see people fishing off to the side of the water.
Now, the easiest way to fish is to get the fishing icon into your hotkey menu. To find the fishing icon, click on the "Extra Menu." This icon can be found right next to the blue icon that looks like a shopping cart. Once selected, several new icons will be shown in a popup menu. Drag the one for fishing into any hotkey space you would like. Once you do this, just push the corresponding hotkey. These instructions are demonstrated in the images below.

.

When you press the fishing hotkey, a popup window will ask to confirm that you want to fish. As you probably already assumed, click "OK."
Once you've clicked ok, your character will commence fishing. A blue bar will appear above your character indicating how close your character is to hooking and collecting a fish, or, in some cases, an item! Usually this only takes 18 seconds from the time the bar appears. However, if it takes 90 seconds, that means that you either hooked a 1,000 gold coin, a rainbow fish piece from the Summer 2011 event, or, in the worst case, nothing. While you fish, you will not be able to open menus, however, you can bypass this by leaving menus open prior to fishing, with the exception of the Inventory menu, the Map, and WebMall. If for any reason you want to cancel fishing, click the icon to the right of the status bar.
IV. What to Do with All this Fish?!
If you are fishing for an event such as the Rainbow Fish event, you will find yourself with an abundance of fish, just too much to carry around, especially if you are going to rush to combat. So how do you get rid of it? You have multiple options. First, and the most obvious one, is to trash the fish, or sell the fish to an NPC shop. However, there are two more options. The first, and the easier option is to use them just as any other mana potion. Just double-click it as you would any other mana potion. The second option is to craft them into something else. I personally prefer to craft them into 10% Attack Increase Potions.
V. Crafting
To use your fish as a crafting material, you will first need a recipe for them. These recipes can be bought from Arshes in Rein River (see the section on Buying Supplies). Just buy the recipe you want to use from Arshes, then double-click the recipe to learn it. **Note: if the recipe is for something that requires a greater crafting level than your character has, you cannot learn it.**

.

Once learned, you can go visit the blacksmith. Talk to him, and there will be an option labeled "Item Crafting." Click on that, and select your recipe.
It will show you the materials needed to craft the object. If you have them all, awesome! Press the crafting button, and your character will attempt to craft the object.
If your character succeeds, you will gain the item your recipe was for (duh!). And, of course, if your character fails, you will get nothing, but you will still lose your fish.
VI. What Can I Get from Fishing?
While fishing, you will find more than just fish! When you fish, you will also run into 1,000 gold coins, armor, and teleport scroll scraps. The 1,000 gold coins can be sold at NPC shops for 1,000 gold, and if you get at least 10 teleport scroll scraps, you can double-click them to get 3 teleport scrolls.
VII. FAQ
When I announced that I was making this guide, people started to turn to me and ask questions about fishing. Here are some questions, and their answers.
Q: Is Arshes's shop the only place to get bait?
A: As of this time, yes.
Q: How do I use the teleport scroll pieces? / When I try to use the teleport scroll scraps, it says I'm missing an event item!
A: This is a glitched item. It says that you only need 3 scraps to make the scrolls, but you, in fact, need 10. Collect 10 scraps then double click them to make the teleport scroll package.
Q: I can't get piece # of the Rainbow Fish!
A: Every player seems to have a certain piece that is rare for them. Just keep fishing! It can take hours to get just one booster, so be patient.
VIII. Final words
I hope you enjoyed my guide, and that it helped you or at least taught you something. Please give me constructive criticism by telling me exactly why this guide sucks in the comments. If you'd like to add any information, that would also be appreciated.
Thanks for reading!
A Guide on Fishing by MissFrozty
First you need to do is, go find Arshes' Fishing Shop
It is located in Rein River Map near the entrance going to Alpen
You can purchase to her two types of Rod and 4 types of Bait. Go purchase one rod and few baits to start fishing.
Next you need to find a location where you can fish, in your map you can find a location where there is an icon of fish just like in this one. You can go fish on those areas.
Next you need to do is equip your fishing rod and your baits.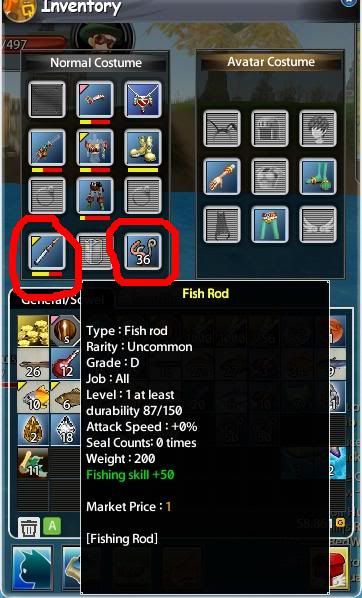 And then you can find the "extra menu" icon on top of your shortcut keys. Click it and a window will pop-up. Then find the "fishing menu" icon.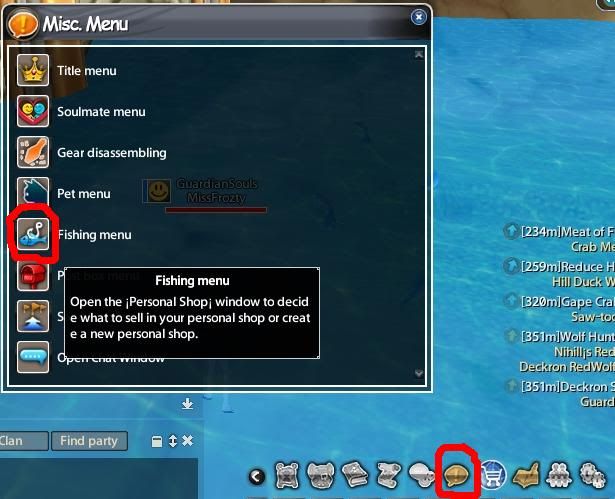 Go and drag it to one of your shortcut keys slot.

Now you are ready to fish. Push the the fishing icon and this window will appear. Just click "OK".
You are now started fishing. Wait until the bar is full.
You have successfully caught a fish. When ever you catch fish/treasure bags your fishing level will increase.