Restaurant Story Constructible Appliance Guide
Restaurant Story Constructible Appliance Guide by moratorro
HOW EASY APPLIANCES WORK:
First of all I want to say that I wrote this guide only from personal testing I made last days.
So there may be some errors, or TeamLava could make an upgrade so that they change the rules of the game (as it actually happened with last update on 10th of June…)
Ok, let's have a look to easy appliances and how they work.
First of all, they are easy because they need only one tap to start cooking food, and one tap to serve it on the counters.
In other words they just cut down tapping time, but NOT the cooking time: it's still the same.
You have to buy one of them (stove, oven or grill), and it will cost 10.000 coins.
For example you can buy an easy stove:
Once you got it you have to place it in a free space, like a normal appliance, and what you'll get will be a box with spare parts inside:
With double tap this window will pop up:
You can see that it needs 20 parts to complete.
You can FREE ask for these parts to your neighbors, or you can buy them with gems: every part will cost 2 gems, so it comes to a total of 40 gems.
If you got parts from neighbors before buying the easy appliance, you'll find them already inside, just like the paint above.
If you tap "Ask friends" you'll get the next window:
You can tick your neighbors to request parts from them (I deleted names from the picture) and then press Send. You can ask only one part to every neighbor once a day.
When your neighbors accept your request all the parts will go straight in the box.
But if your neighbors will gift you with parts, by pressing the "Gift" button, you will get them in the "News feed" list, just like the other food gifts. So you have to accept them, as you do with food.
Once you got all needed parts this is the window you finally should see (this is for an oven):
So all you need is to tap "Build it!" button and that's all!
Here is you brand new easy appliance!
Now I'm going to point out to you some things I learned by carrying out some tests by myself.
– Food gifts and parts gifts are separate (with the exception I'll explain later).
– You can receive max 20 parts a day.
– If you send a part to a neighbor of yours (by tapping "accept" button) you cannot send him other parts until next day. But after all he can send to you only one part request on that day.
– Part request coming from your neigbors will pop up in News Feed list. You only have to click on "Accept" and parts will be send to them.
– When you receive a part from your neighbors (not your request, but a real gift like food) you have to press "Accept", just like food, and it will pop up that: "You can find it by going to "My Gifts" from the main menu".
This NOT true: in My Gift list you'll find only gift food, while parts will go straight in the box you are building.
– I'm sure about this: part gifting and part requesting is totally free, neither coins nor gems.
– If you are NOT building an easy appliance and you receive gift parts, you can accept them: these parts will wait "somewhere" until you will actually get an easy appliance, and you'll find them already inside the box.
I said before that food gifts and parts gifts are separate This is true only for parts that are actually requested from neighbors. Let's make an example.
Your friend Groupmagma (!) is building an easy oven and he sends you a request for one Gear. You click "Accept" and a gear will be sent to him and it will go straight in his easy oven.
This part will not interfere with your normal gifting for that day.
As a matter of fact you can still gift him by pressing the Gift button, and you can choose to gift him with another part (INSTEAD of food): this second part will pop up in his "Gift list" together with other food gifts Groupmagma received on that day.
This way you can gift two parts to your neighbors every day, even if it's a bit tricky…
I hope this post may help you.
If you have other informations or news about easy appliances feel free to add one post here so that everyone can read it.
Please add only news you actually tested by yourself, not only things like "Parts gifting is gem decreasing!" (this is definitely not true).
Thanks to all my amazing neighbors for their support and their parts and food gifting!
Enjoy!
Edit: a few additional pieces of information.
1. When trying to purchase any of the appliances (including the drink machine), it helps to tap on the top part, away from the hammer.
2. After placing it, it's best to tap the very bottom of the box to gain access to it.
3. When trying to access the cardboard box after purchasing, you may need to move it or the items around it to access. If you don't want it sitting by itself the whole time, simply move it, access to check how many parts or send requests out, then place it back where you would like to have it.
4. Chef hats and exp are exactly the same as regular appliances, though they may appear different when you are tapping.
misukume was kind enough to provide this chart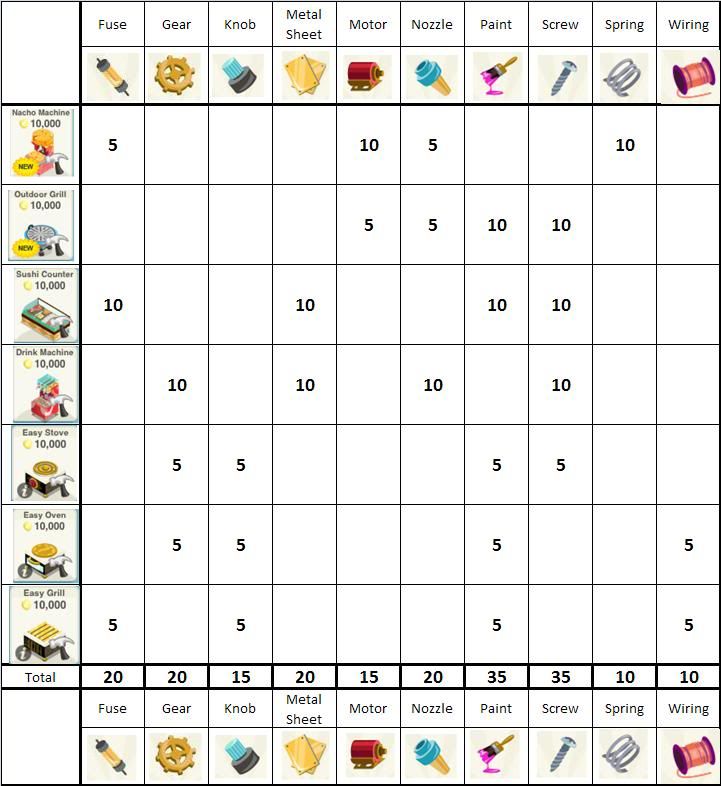 And also this chart, with the Holiday Appliances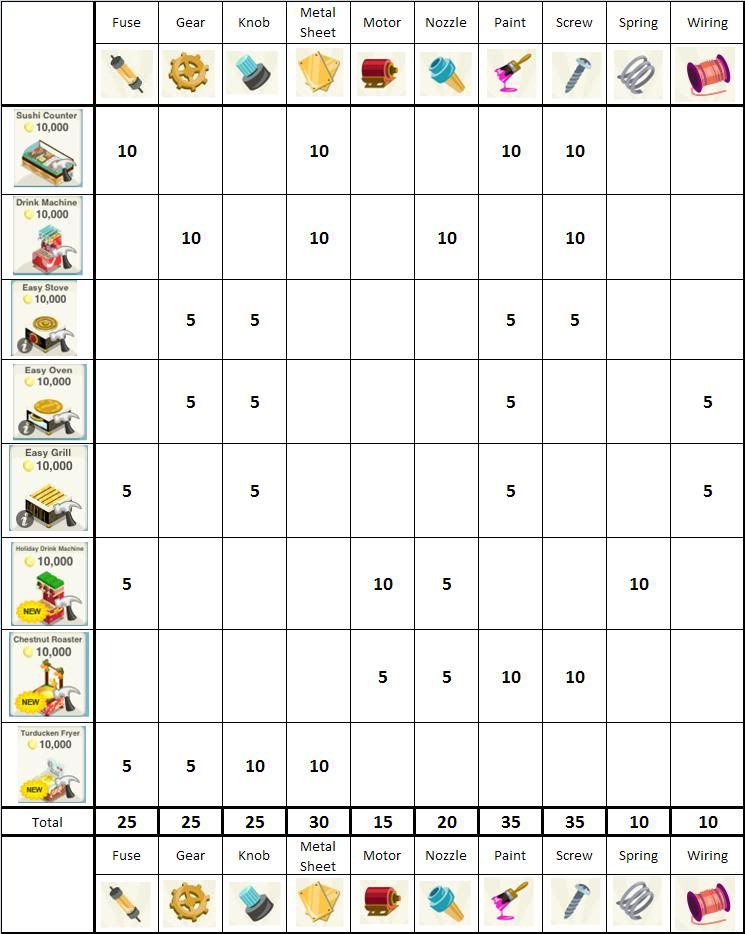 And now with the Valentines Appliances

Adding levels that appliances unlock:
Start – 2
Level 5 – 3
Level 10 – 4
Level 14 – 5
Level 19 – 6
Level 23 – 7
Level 28 – 8
Level 32 – 9
Level 37 – 10
Level 41 – 11
Level 46 – 12
Level 50 – 13
Level 55 – 14
Level 59 – 15
Level 64 – 16
Level 68 – 17
Level 73 – 18