Ragnarok Online 2 Priest Basic Guide
Ragnarok Online 2 Priest Basic Guide by Ibluelalice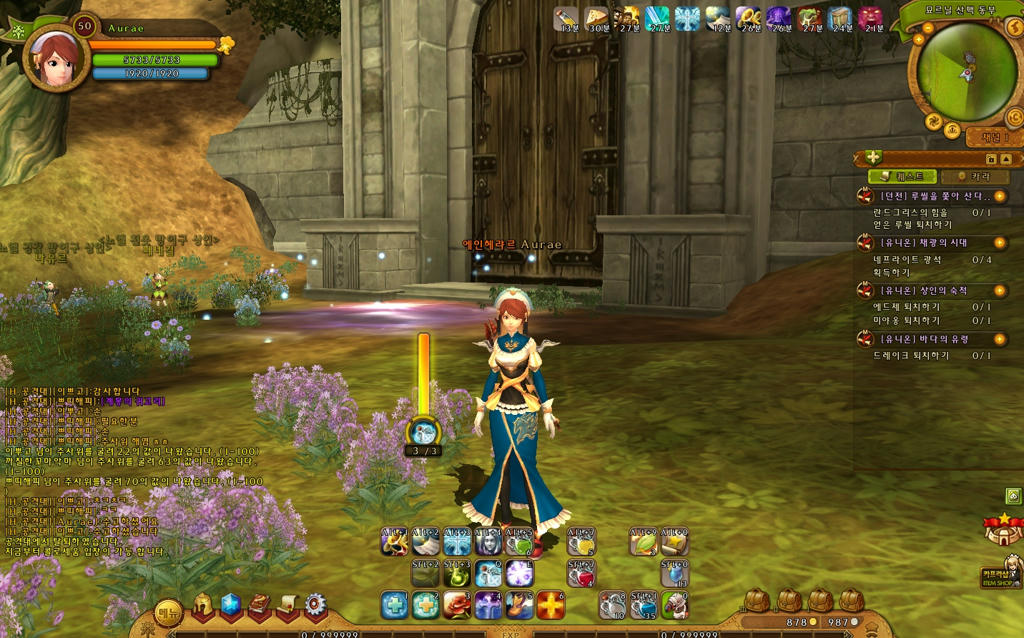 Personally, I find the lv 50 epic equipment for priest the best looking. I'm always switching Aurae between attack and support priest. ^^;;
Introduction
This is probably the most overlooked class of the game. If you were looking for a character that is the pinnacle of support, or was looking for a class that will not lose in terms of damage, you've come to the right place.
Heal Priest
(Attack Line)
Holy Light 1
Lex Divina 0
Oratio 0
Judex 0
Crescent 0
Adoramus 0
Magnus Exorcismus 0
Genesis Ray 0
(Support Line)
Blessing 5(M)
Increase Agility 1
Resurrection 3(M)
Aqua Benedicta 1(M)
Aspersio 3(M)
Gloria 3(M)
Recovery 1
Suffragium 5(M)
Angelus 0
Archangel 0
(Heal Line)
Heal 4
Renovatio 3(M)
Meditatio 1
Highness Heal 5(M)
Sacrament 5(M)
Coluseo Heal 1
Assumptio 5(M)
Sanctuary 5(M)
Attack Priest
(Attack Line)
Holy Light 5(M)
Lex Divina 1
Oratio 5(M)
Judex 1
Crescent 5(M)
Adoramus 5(M)
Magnus Exorcismus 1*
Genesis Ray 5(M)
(Support Line)
Blessing 5(M)
Increase Agility 1
Resurrection 3(M)
Aqua Benedicta 1(M)
Aspersio 3(M)
Gloria 3(M)
Recovery 1
Suffragium 5(M)
Angelus 0
Archangel 0
(Heal Line)
Heal 1
Renovatio 1*
Meditatio 0
Highness Heal 0
Sacrament 0
Coluseo Heal 0
Assumptio 0
Sanctuary 0
Aqua Benedicta – This is the skill that allows you to save money. After you learn this skill, never again will you need mana potions… ever.
Aspersio – This is a priest's steroid. This skill separates beginners and veterans. I CANNOT STRESS HOW IMPORTANT THIS SKILL IS. For starters resurrection can be used with no cool time. It takes 3 seconds to cast resurrection without it and 3 seconds in a raid is the difference between life and death of the whole party. Second, it affects highness heal. With the help of this, highness heal can crit up to the 4500s (to the person you used it to and 2 people next to that character) even with meditatio at 1, which gives an extra 1500 healing to the THREE characters every 2 seconds for the next 10 seconds. Additionally with renovatio, you should be healing 2400 every 2 seconds. 2400 without even using regular heal is something to be amazed at. Additionally, Sanctuary is also affected. Not only does it raise the heal rate of sanctuary, it also raises allies hp temporary, allowing them to take heavy damage. (Important in raids)
Meditatio – This is a commonly overlooked skill, especially due to the vague explanation. By raising it, you're increasing the value of a critical hit. It is not the percentage of the critical hit that is raised, but the value. For example, if your critical heal was 2000, by raising meditatio, it would be raised to 2500 or 3000. With the use of aspersio, a heal priest will not need to raise this skill, but an attack priest will want to aim higher values, making this a necessity.
Angelus – Honestly, I find no point in raising this skill. Against a boss, regardless of current defenses, 2-3 hits will wipe a person out, but even if you were to raise defense by 9%, it really does not make a difference. If it was 50% or 100% maybe you might last 1 more hit… but 9%…
Archangel – This is an overused skill with an awesome ability, but to be frank, the investment does not worth it. For starters, a heal priest should NEVER have this skill. If you really need the 25% boost to keep up, the battle will not last. For an attack priest, you should be busy enough to not have enough time to cast it. You will do MUCH better investing the points in other skills… that is… unless you're willing to give up blessing and resurrection.
Attack Priest
Lex Divina – There should be no use of such a skill. Every 60 seconds aqua benedicta should refill aspersio, and holy light does much more damage than lex divina.
Judex – Another useless skill. Perhaps you might think it's good for mobbing, but think again. Oratio, Crescent, and Adoramus should be used on an enemy and if you run toward the next enemy. They should all die while chasing after you, or if you want to lessen the work, magnus exorcismus with aspersio or even genesis ray should take down enemies before you know it.
Magnus Exorcismus – If you ever find yourself taking care of mobs in dungeons, this skill with aspersio should hurt just as much as a wizard's inferno or a sorcerer's land of vermilion. However level 1 should be more than enough to do the job.
Genesis Ray – This should be fired towards bosses every 20 seconds. Every time you use this skill, you should find yourself on par with an attack sorcerer and a falcon ranger.
How to play attack priest:
Aqua Benedicta – ((Aspersio – Genesis Ray – Oratio – Crescent – Adoramus – (holy light until next aspersio)) – repeat – repeat) – Aqua Benedicta – repeat
Heal Priest
Suffragium – 10% doesn't seem to be much of a difference. It's like a wizard's pyromania. Only those who use it will feel it. However, the difference between one who uses suffragium and doesn't use suffragium will differ around 1000-2000 every 10 heals. Usually, this unnoticeable 10% is why your tank is still alive. Personally, I HIGHLY recommend using it.
Highness Heal – Every other time you use this, aspersio – highness heal should come in a pair. However, it heals 3 allies as well as giving them DOT heal. It can cause mobs and bosses to go after you so never start off with highness heal.
Assumptio – You hold a lifeline for whoever you want to give it to. Perhaps you want to give it to yourself, or your fellow priest… or maybe a heal sorcerer who does all the work for you. Whoever it's given to, they will most likely survive.
Sanctuary – This is a skill like sorcerer's deluge. It should not be use for healing purposes, but with aspersio for survival. Aspersio – Sanctuary should ALWAYS come in a pair.