Drift City Exodus Quake Guide
Drift City Exodus Quake Guide by pkis1337
Guide done by MissFoxy
Tutorial Video (Special Thanks to pk_is_1337 for making this for us)
http://www.youtube.com/watch?v=j22cm6GJvoY (for best results watch in 720p)
Edit: New video of me doing it in under 3:30 http://www.youtube.com/watch?v=PE-sSfEupCE (as above watch in 720p for best results)
Another video submitted thanks to K4ras
http://www.youtube.com/watch?v=dYALkL5_Cl0
And one from vbrake
http://www.livestream.com/vbrake/video? … 3eaed0bb0d
Quake is by far the biggest exp you can gain in drift city. Depending on your level it can range from 5k to 12k per go. Note that experience drink does work in quake and can help increase your experience earned. Another way to increase your experience is to complete quake in 3:30 or below so you can take advantage of the 30% experience increase
The idea is (as shown in the vid) to get around 2 laps as fast as you can while avoiding the volcanos and meteors coming at you. Sounds simple, but it WILL take practice.
To do Quake first off you will need the Quake Ticket and AT LEAST 10 retries (if you have never done it before) and of course an MMT1 (please remember that in Quake ALL cars have the same stats, so a v1 goes as fast as a v9 and parts do NOT matter) So for the purposes of Quake definitely use a small car such as an MMT1 or Kicker (MMT1 has far better handling)
-How they look


To get your ticket there are 2 ways:
ROO = you simply go into the BattleZone and wait for the Quake call then accept.
OMD = sorry guys, you, like me, have to buy the ticket. This can be found in AH, just type in "Quake"
Both sides please make sure you go to the AH and buy a few Rechallenges before you even attempt to do this.
WARNING: IF you fail quake and have no rechallenges, you WILL lose your Quake ticket.
Once you have your Quake token, to activate it, right click it in your inventory and you will be moved to the Battle Zone Arena ready to begin. On the right it will show you the info of what to do, when you are ready, hit start and good luck.
USEFUL TIPS: – When Quake first loads if you look on the bottom left there is a small box that says "RECHALLENGE". Click this and it will take you back to the Quake waiting room. Do this again 2 more times, so that in total you have rechallenges 3 times. NOW start. You have just given yourself +30 seconds and IF you complete it in this time you will get back those 3 tokens PLUS your Quake token. IF however you cant complete in this time, dont worry, hit rechallenge again and it will continue to add on +10 seconds each time, however you will only get +3 rechallnge tickets and your Quake ticket back at the end.
– The volcanos, if driven over BEFORE fully grown give you a full boost bar, HOWEVER, be careful because in doing this they also damage you which will lead to repairs and slowing you down again. ANY you do use on the 1st lap, can be seen on the second lap but CAN be driven through (but good luck remembering which ones lol)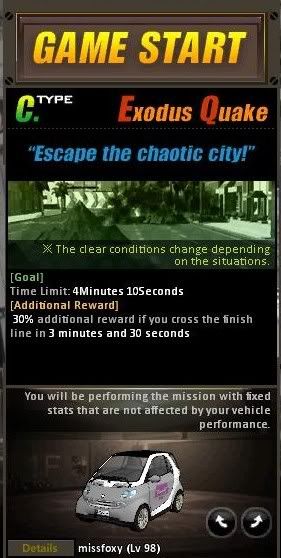 Edit: Forgot to add in but thanks to solstice for reminding me. In my under 3:30 video you may notice me mess up a drift near the end of the first lap. no that wasn't intended but it does remind me about F4 bz items.
Gio(cheerleader on top): Allows a player to be repaired faster when too much damage has been taken(jumps/hitting buildings)
Turbo man(the 2 guys with jetpacks on the side): Allows a player to drive at 60 mph while repairing as opposed to 25
Bacchus F/D(the bottle you saw on the back): Gives 50% experience increase from exodus quake instant mission
Gio and Turboman are used so that if/when i repair i do 2 things:
1. my top speed is 60 mph as opposed to 25 if i do slam into a wall
2. when i repair i spend as little time repairing as possible.
with those 2 items i can stand to squeeze in an extra repair as needed while not sacrificing too much time. Bacchus F was used just for the experience gain as well as premium package for my drinks/gio