The Settlers Online Wild Mary Adventure Guide
The Settlers Online Wild Mary Adventure Guide by Tage
Adventure Info:
Player Level: 36+
Difficulty: 7/10
Number of Players: 1
Duration: 2 days 12 hours
Where to get?: Trader (shop) for 200 map fragments
The only map I could find is a German one on Siedler-Vision, made by cAmou309. All credit for the map goes to him: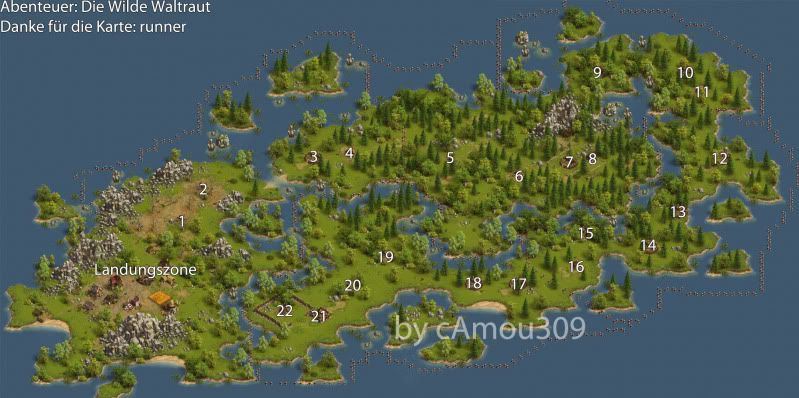 All camps are layed out sequentially, so there are few that can be skipped or blocked.
You need several generals, mainly due to the fact that a lot of them will be recovering after suicidal waves.
And you've only got 60 hours to kill all 22 camps…
Depending on the version below, you need to send troops some 13-20 times!
The four blocks used are all of method 2.
Four versions are presented below;
NORMAL generals. Do not use blocks if you only have these.
BHG – battle hardened general (at least one of them). 4 blocks used.
VETERAN general (one of them). 4 blocks used.
VETERAN general (one of them) with Crossbows. 4 blocks used.
Veteran or battle hardened generals are not needed for the first suicidal waves on camps that are taken in two waves.
Only for the veteran attack on camp 22 must all four waves be with veteran generals, thus also needing time for recovering between each wave.
NORMAL generals
Units needed, average: 3440R 90S 580C 170B 129LB
Units needed, maximum: 3513R 162S 580C 170B 129LB
Units lost, minimum: 3220R 72S 578C 170B
Units lost, average: 3439R 83S 578C 170B
Units lost, maximum: 3513R 162S 578C 170B
BHG – battle hardened general
Units needed, average: 2970R 90S 550C 170B 129LB
Units needed, maximum: 3022R 150S 550C 170B 129LB
Units lost, minimum: 2780R 72S 548C 170B
Units lost, average: 2961R 83S 548C 170B
Units lost, maximum: 3022R 150S 548C 170B
VETERAN general
Units needed, average: 2550R 80S 470C 196LB
Units needed, maximum: 2681R 119S 470C 196LB
Units lost, minimum: 2319R 69S 466C
Units lost, average: 2536R 80S 466C
Units lost, maximum: 2681R 119S 466C
VETERAN general with Crossbows
Units needed, average: 2250R 60S 470C 150XB
Units needed, maximum: 2345R 100S 470C 150XB
Units lost, minimum: 2031R 40S 466C
Units lost, average: 2213R 56S 466C
Units lost, maximum: 2345R 100S 466C
Camp 1
NORMAL general:
1) 80 thugs, 70 stone throwers [64R 3S 85C 48LB (50R – 58R – 64R 2S)]
VETERAN general:
1) 80 thugs, 70 stone throwers [56R 2S 165C 27LB (40R – 49R – 56R 1S)]
VETERAN general and Crossbows:
1) 80 thugs, 70 stone throwers [56R 2S 165C 27XB (40R – 49R – 56R 1S)]
Camp 2
NORMAL general:
2) 100 thugs, 70 stone throwers [100R 6S 80C 14LB (83R – 96R – 100R 5S)]
VETERAN general:
2) 100 thugs, 70 stone throwers [79R 2S 114C 55LB (58R – 69R – 79R 1S)]
VETERAN general and Crossbows:
2) 100 thugs, 70 stone throwers [79R 2S 114C 55XB (58R – 69R – 79R 1S)]
Camp 3 (CAN BE BLOCKED)
NORMAL general – not blocked:
3a) 80 thugs, 70 stone throwers, 30 guard dogs [30C (30C)]
3b) 79 thugs, 70 stone throwers [63R 3S 85C 49LB (48R – 57R – 63R 1S)]
NORMAL general – BLOCK (while attacking camp 4):
3) 80 thugs, 70 stone throwers, 30 guard dogs [1R 14S 185C (-)] {5 – 11 rounds of fighting, average 7.7}
Camp 4 (LEADER)
NORMAL general:
4a) 80 thugs, 50 rangers, 50 guard dogs [50C (50C)] {1 round of fighting}
4b) 79 thugs, 50 rangers [59R 3S 90C 48LB (46R – 54R – 59R 1S)] {2 rounds of fighting} – BHG if BLOCK on Camp 3
VETERAN general:
4) 80 thugs, 50 rangers, 50 guard dogs [145R 105S (114R – 131R – 145R)] {2 rounds of fighting}
Camp 5
NORMAL general:
5) 100 thugs, 70 rangers [100R 6S 80C 14LB (83R – 96R – 100R 5S)]
VETERAN general:
5) 100 thugs, 70 rangers [79R 2S 114C 55LB (58R – 69R – 79R 1S)]
VETERAN general and Crossbows:
5) 100 thugs, 70 rangers [79R 2S 114C 55XB (58R – 69R – 79R 1S)]
Camp 6
NORMAL general:
6a) 90 thugs, 70 rangers, 30 guard dogs [30C (30C)]
6b) 89 thugs, 70 rangers [87R 2S 85C 26LB (65R – 78R – 87R 1S)]
VETERAN general:
6a) 90 thugs, 70 rangers, 30 guard dogs [30C (30C)]
6b) 89 thugs, 70 rangers [67R 2S 140C 41LB (48R – 58R – 67R 1S)]
VETERAN general and Crossbows:
6a) 90 thugs, 70 rangers, 30 guard dogs [30C (30C)]
6b) 89 thugs, 70 rangers [66R 2S 145C 37XB (48R – 58R – 66R 1S)]
Camp 7 (CAN BE BLOCKED)
NORMAL general – not blocked:
7a) 100 thugs, 100 rangers [58R (58R)] or [50B (50B)]
7b) 75 thugs, 100 rangers [75R 5S 110C 10LB (59R – 71R – 75R 4S)]
NORMAL general – BLOCK (while attacking camp 8):
7) 100 thugs, 100 rangers [26S 174C (-)] {5 – 11 rounds of fighting, average 7.8}
Camp 8 (LEADER)
NORMAL general:
8) 80 roughnecks, 70 rangers [90R 5S 85C 20LB (71R – 85R – 90R 4S)] {3 rounds of fighting} – BHG if BLOCK on Camp 7
VETERAN general:
8) 80 roughnecks, 70 rangers [72R 2S 85C 91LB (51R – 62R – 72R 1S)] {2 rounds of fighting}
VETERAN general and Crossbows:
8) 80 roughnecks, 70 rangers [67R 2S 85C 96XB (48R – 58R – 67R 1S)] {1 round of fighting}
Camp 9
NORMAL general:
9a) 100 roughnecks, 50 rangers [50R (50R)] or [45B (45B)]
9b) 85 roughnecks, 50 rangers [83R 5S 62C 50LB (70R – 81R – 83R 4S)]
VETERAN general:
9) 100 roughnecks, 50 rangers [98R 2S 62C 88LB (75R – 87R – 98R 1S)]
VETERAN general and Crossbows:
9) 100 roughnecks, 50 rangers [81R 2S 63C 104LB (62R – 71R – 81R 1S)]
Camp 10 (CAN BE BLOCKED)
NORMAL general – not blocked:
10a) 70 roughnecks, 80 rangers, 30 guard dogs [36R (36R)]
10b) 69 roughnecks, 80 rangers [67R 5S 100C 28LB (59R – 66R – 67R 4S)]
NORMAL general – BLOCK (while attacking camp 11):
10) 70 roughnecks, 80 rangers, 30 guard dogs [5R 20S 175C (-)] {7 – 12 rounds of fighting, average 9.0}
Camp 11 (LEADER)
NORMAL general:
11a) 100 roughnecks, 50 rangers, 50 guard dogs [103R (103R)] {1 round of fighting}
11b) 87 roughnecks, 50 rangers [87R 6S 54C 53LB (72R – 85R – 87R 5S)] {2 rounds of fighting} – BHG if BLOCK on Camp 10
VETERAN general:
11a) 100 roughnecks, 50 rangers, 50 guard dogs [60R (60R)] {1 round of fighting}
11b) 99 roughnecks, 50 rangers [95R 2S 62C 91LB (74R – 85R – 95R 1S)] {2 rounds of fighting}
VETERAN general and Crossbows:
11a) 100 roughnecks, 50 rangers, 50 guard dogs [60R (60R)] {1 round of fighting}
11b) 99 roughnecks, 50 rangers [80R 2S 63C 105XB (61R – 71R – 80R 1S)] {2 rounds of fighting}
Camp 12
NORMAL general:
12a) 100 roughnecks, 100 rangers [155R 10B (155R 10B)]
12b) 45 roughnecks, 100 rangers [36R 5S 125C 32LB (28R – 35R – 36R 4S)]
VETERAN general:
12) 100 roughnecks, 100 rangers [120R 10S 108C 12LB (104R – 120R 1S – 120R 9S)]
VETERAN general and Crossbows:
12) 100 roughnecks, 100 rangers [110R 5S 110C 25XB (88R – 103R – 110R 4S)]
Camp 13
NORMAL general:
13a) 180 roughnecks [200R (200R)]
13b) 102 roughnecks [90R 5S 105LB (79R – 88R – 90R 4S)]
VETERAN general:
13a) 180 roughnecks [200R (200R)]
13b) 102 roughnecks [80R 3S 167LB (62R – 73R – 80R 1S)]
VETERAN general and Crossbows:
13) 180 roughnecks [140R 20S 90XB (140R 5S – 140R 12S – 140R 19S)]
Camp 14
NORMAL general:
14a) 100 roughnecks, 60 rangers, 40 guard dogs [135R (135R)]
14b) 70 roughnecks, 60 rangers [60R 5S 75C 60LB (51R – 59R – 60R 4S)]
VETERAN general:
14a) 100 roughnecks, 60 rangers, 40 guard dogs [48R (48R)]
14b) 99 roughnecks, 60 rangers [99R 2S 75C 74LB (75R – 89R – 99R 1S)]
VETERAN general and Crossbows:
14a) 100 roughnecks, 60 rangers, 40 guard dogs [48R (48R)]
14b) 99 roughnecks, 60 rangers [80R 2S 75C 93XB (61R – 71R – 80R 1S)]
Camp 15 (CAN BE BLOCKED)
NORMAL general – not blocked:
15a) 100 roughnecks, 100 guard dogs [110R (110R)]
15b) 97 roughnecks[82R 5S 113LB (70R – 80R – 82R 4S)]
NORMAL general – BLOCK (while attacking camp 16):
15) 100 roughnecks, 100 guard dogs [89S 111C (-)] {7 – 12 rounds of fighting, average 9.0}
Camp 16 (LEADER)
NORMAL general:
16a) 130 roughnecks, 70 rangers [50R 115B (50R 115B)] {1 round of fighting}
16b) 78 roughnecks, 70 rangers [90R 6S 55C 49LB (80R – 89R – 90R 5S)] {2 rounds of fighting} – BHG if BLOCK on Camp 15
VETERAN general:
16a) 130 roughnecks, 70 rangers [110R (110R)] {1 round of fighting}
16b) 98 roughnecks, 70 rangers [103R 5S 85C 57LB (80R – 92R – 103R 1S)] {2 rounds of fighting}
VETERAN general and Crossbows:
16) 130 roughnecks, 70 rangers [93R 22S 85C 50XB (93R 7S – 93R 14S – 93R 21S)] {2 rounds of fighting}
Camp 17
NORMAL general:
17a) 130 roughnecks, 50 rangers, 20 guard dogs [150R (150R)]
17b) 88 roughnecks, 50 rangers [89R 5S 63C 43LB (75R – 86R – 89R 4S)]
VETERAN general:
17a) 130 roughnecks, 50 rangers, 20 guard dogs [50R (50R)]
17b) 122 roughnecks, 50 rangers [140R 5S 62C 43LB (115R – 131R – 140R 4S)]
VETERAN general and Crossbows:
17a) 130 roughnecks, 50 rangers, 20 guard dogs [24R (24R)]
17b) 129 roughnecks, 50 rangers [134R 3S 63C 50XB (108R – 122R – 134R 1S)]
Camp 18
NORMAL general:
18a) 80 roughnecks, 120 rangers [150R (150R)]
18b) 34 roughnecks, 120 rangers [27R 5S 150C 18LB (20R – 26R – 27R 4S)]
VETERAN general:
18) 80 roughnecks, 120 rangers [85R 8S 150C 7LB (72R – 84R – 85R 7S)]
VETERAN general and Crossbows:
18) 80 roughnecks, 120 rangers [83R 4S 150C 13XB (66R – 78R – 83R 3S)]
Camp 19
NORMAL general:
19a) 200 roughnecks [200R (200R)]
19b) 126 roughnecks [150R 5S 45LB (127R – 144R – 150R 4S)]
VETERAN general:
19a) 200 roughnecks [200R (200R)]
19b) 126 roughnecks [118R 3S 129LB (97R – 110R – 118R 2S)]
VETERAN general and Crossbows:
19a) 200 roughnecks [200R (200R)]
19b) 126 roughnecks [101R 1S 148XB (78R – 90R – 101R)]
Camp 20
NORMAL general:
20a) 80 roughnecks, 70 rangers, 30 guard dogs [36R (36R)]
20b) 79 roughnecks, 70 rangers [89R 5S 85C 21LB (71R – 83R – 89R 4S)]
VETERAN general:
20a) 80 roughnecks, 70 rangers, 30 guard dogs [36R (36R)]
20b) 79 roughnecks, 70 rangers [67R 3S 85C 95LB (49R – 60R – 67R 2S)]
VETERAN general and Crossbows:
20a) 80 roughnecks, 70 rangers, 30 guard dogs [36R (36R)]
20b) 79 roughnecks, 70 rangers [67R 3S 85C 95XB (49R – 60R – 67R 2S)]
Camp 21
NORMAL general:
21a) 140 roughnecks, 60 rangers [155R 45B (155R 45B)]
21b) 63 roughnecks, 60 rangers [50R 5S 75C 70LB (38R – 47R – 50R 4S)]
VETERAN general:
21a) 140 roughnecks, 60 rangers [75R (75R)]
21b) 118 roughnecks, 60 rangers [143R 5S 60C 42LB (112R – 132R – 143R 4S)]
VETERAN general and Crossbows:
21) 140 roughnecks, 60 rangers [160R 15S 36C 39XB (145R – 160R 2S – 160R 14S)]
Camp 22
NORMAL general:
22a) 100 roughnecks, 60 rangers, 40 guard dogs, 1 Wild Mary [75R 125C (75R 125C)]
22b) 93 roughnecks, 1 Wild Mary [104R 96C (104R 96C)]
22c) 72 roughnecks, 1 Wild Mary [83R 117C (83R 117C)]
22d) 43 roughnecks, 1 Wild Mary [25R 15S 160C (25R 15S 160C)]
22e) 1 Wild Mary [71S 129LB (57S 68S 71S)]
VETERAN general:
22a) 100 roughnecks, 60 rangers, 40 guard dogs, 1 Wild Mary [155R 95C (155R 95C)]
22b) 96 roughnecks, 1 Wild Mary [99R 151C (99R 151C)]
22c) 59 roughnecks, 1 Wild Mary [2R 28S 220C (2R 28S 220C)]
22d) 1 Wild Mary [54S 196LB (41S 51S 53S)]
VETERAN general and Crossbows:
22a) 100 roughnecks, 60 rangers, 40 guard dogs, 1 Wild Mary [155R 95C (155R 95C)]
22b) 96 roughnecks, 1 Wild Mary [99R 151C (99R 151C)]
22c) 59 roughnecks, 1 Wild Mary [2R 28S 220C (2R 28S 220C)]
22d) 1 Wild Mary [99R 1S 150XB (92R 96R 99R)]