Sevencore Mount Skills Guide
Sevencore Mount Skills Guide by SniperfolK
Hello Fellow Minions :D
First off, i would like to say this game is amazing and looks promising more than any MMO i played CBT it offers so much for a fresh new game, still needs alot of work tho, but if the SevenCore team have more ppl like Esteire then am not worried xD.
once again, HUGE thumbs up to the SevenCore team for making this game wonderful.
What really makes this game unique is the mount system, which is really as i never saw before in an MMORPG, saw many games with mount and/or pet systems but this game knocks them all out of the picture.
Since there is not much of guides yet for the game is fresh new, i decided to help build guides to help the wonderful community of this game! :D, so in the CBT i was concentrated to gather as much information as i could (while trying to reach Lv 45, so it wasn't easy =/, and still of course not even close from done).
This Guide is based on my CBT experience which might change during OBT, promise to keep it updated as much as i can :S
There are always times in game that can be lonely. Solo quests, or perhaps you're into a late night session and all your friends are asleep. Mounts can help you alleviate this sense of loneliness. But do you really know how to take good care of your companions and how your mounts can help you?
Choosing the perfect mount wont be an easy choice to take, since diffrent mounts are very effective in somethings, while other mounts are more effective in other things…
example:
A stager mount is amazing in Area skills (AOE) -ask the turtle rooms lol-
while it's not as fast as a beetle when it comes for speed skills, a beetle doesnt even have one area skill, but still ROCKS with it's debuffs and speed skills saves alot of time, and so on goes for all type of mounts, so a perfect mount for everything i dont think there is one and i love it kept this way :P
Since you are limited to choose a maximum of 4 skills from the available mount skills (assuming you got all slots for skills unlocked , by default you only get to learn 2 skills in most mounts), choosing which skills to learn can be confusing that is why i made this guide to help us determine which skills will serve your character best.
So you need to know why and what for you need a specific mount and choose their skills accordingly.
THIS GUIDE IS BASED ON MY EXPERIENCE IN CBT, IT MIGHT HAVE SOME MISTAKES, FEEL FREE TO CORRECT ME IF SO
sorry for caps lol but had to make this visible :S
BUG
Since this was my first mount in this game that i actually owned, i'll start by the famous Bug, it's a defense oriented mount (defense grows more rapid than other stats)..
Pros:
-Can heal (Bug Ball).
-Has a skill with 250% attack power, and knocks out (Knock Back).
but since it's a defense oriented mount 250% attack power isn't much
-Has a speed skill (Full Speed).
-Defense up skill (Defense UP).
-Poison casting skill (Glue).
this is almost the best thing about this bug 150% attack power per second as poison effect
Cons:
-No Area Of Effect (AOE) skills at all.
– Very slow by default (when not using Full speed skill).
CARPRY
Movement (speed) oriented mount, havent really tried it out for long, but i guess it has a movement growth with each level.
Pros:
-Have 2 AOE skills (Charge and Revenge).
-Relativly Faster mount (since it's a speed oriented).
-Has a speed skill (Fleet Foot).
-Has a skill single target attack with 200% attack power (Head Butt).
-Has one of the best skills a mount could have (summon minions), very helpful to take the aggro away from the player plus really helps out with attacking the target.
Cons:
– low defense and attack.
– Not so much fast for a movement oriented mount.
– No elemental advantage.
BEAR
Attack oriented mount, one of the best i had it out for long..
Pros:
-Have 1 AOE skill 200% attack power (Push).
-Has a skill that heals full health! (Restore).
-Has one of the best skills a mount could have (Summon Baby Bear), very helpful to take the aggro away from the player plus Really helps out with attacking the target, forget about the fact that they are babies o.0 they RULE!
-Defense Up 50% buff (Tough Leather).
-Relatively fast (Movement Speed 50)
Cons:
– No speed skill.
– No elemental advantage.
AGLE
BEETLE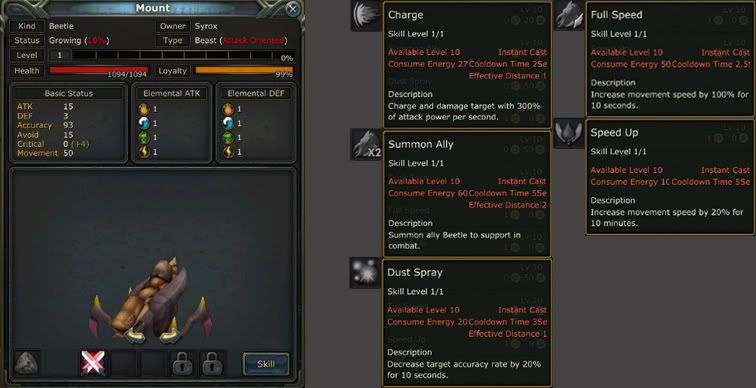 CRABER
GRUNT
RAPTOR
RHINOS
TURTLE
DRAKAN
Thanks to Shinji for the help
BOAR
MOTH
thank you Amaia :)
SILVER DRAKAN
big thanks to Doomlight!
Well.. this is very weird , it's a movement oriented mount that doesn't attack or have attack skills…
doesn't collect or loot either.. the only thing is good about this is that it flies and looks nice.
Pros:
-Able to Fly, which is obviously fast (movement speed 60).
-Speed Skill (Speeding).
-Looks nice.
Cons:
-No attack.
-No attack skills.
-Just one skill available to learn (Speeding), costs 5G!
– the mount levels up as any other mount and has it's ATK and DEF stats grow with it, but i find this quiet pointless since it can't attack or be attacked, so i think this mount should at least have it's movement speed stat grow rather than useless ATK and DEF? (I wish developers do something about this)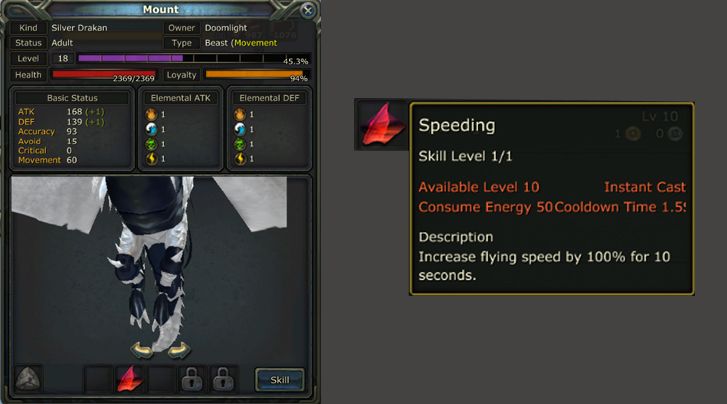 SPIDER
HYNA
BOBCAT
Thanks Sneaky