Legend of Edda User Interface Guide
Legend of Edda User Interface Guide by lady_evi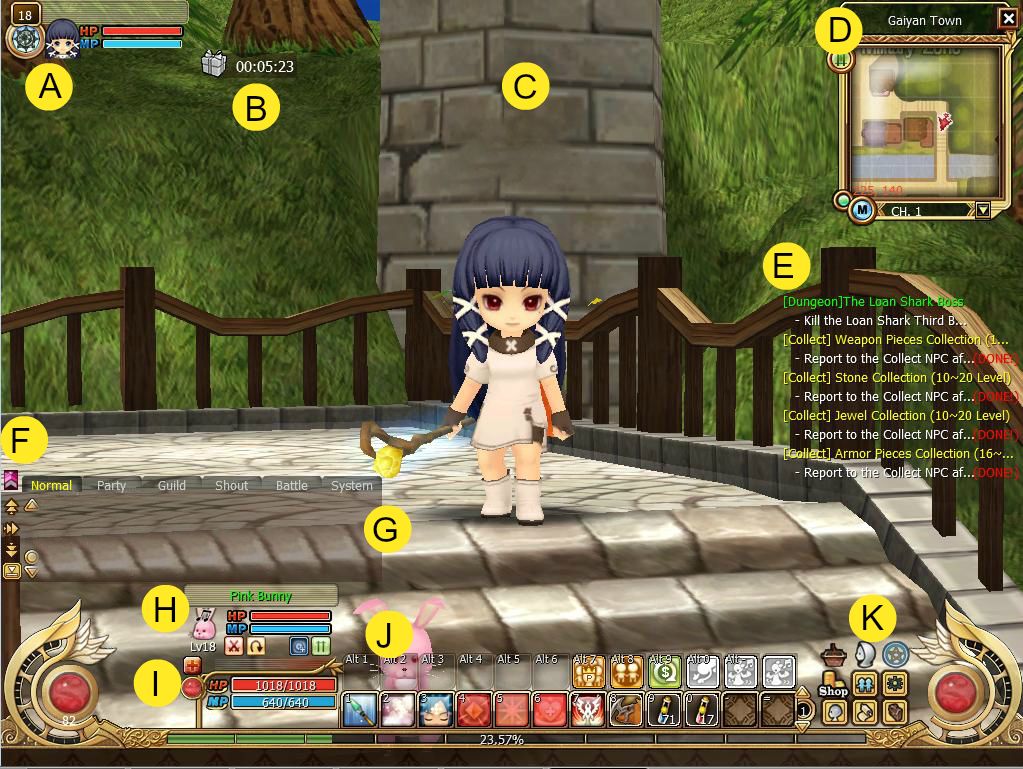 A – Character Interface I
It shows Character information such as Level, Name, Class, HP and MP bars.
B – Free Gift Interface
To earn a gift, click the icon when the timer reaches 00:00:00.
C – Broadcast
Important messages/announcements would be displayed here.
D – Minimap
It shows the location of Players, NPCs, Channel, Sacred war schedule, and Zone Map.
E – Quest List
Players could track the quests here. Open or close this panel in quest log interface (L).
F – Mood Interface
Set up your mood by clicking on the icon. Mood appears on top of your guild name or title name.
G – Chat Window
Most of the Communication and System Messages are shown in the Chat Window. You can switch among Chat Channels by clicking on the channel name to show chats for that specific channel only or you can press [enter] then [tab] to chat on any channnel you like.
H – Pet Interface
It shows Pet information such as Level, Name, HP and MP bars, and Mode (Assist or Standby).
I – Character Interface II
Similar to character interface I. It shows the exact amount of your HP and MP bars. It also shows if you have active marble in use. Press the [+] icon to learn skills.
J – Shortcut Bars
You can drag the icons of Actions, Skills and Items into the Shortcut Bars for faster access.
K – Main Menu
To open Menu of Item Basket, Item Shop, Game Menu, Main Menu, Character Sheet, Quest Log, and Inventory. You can also access low settings by clicking Simple Avatars or Simple Effects.