Legend of Edda Grinding to Level 30 Guide
Legend of Edda Grinding to Level 30 Guide by kgalera
SO YOU'RE INTERESTED, huh? Okay here we Go
AT FIRST, you should get your Tutorial to get free 1Day Costume (+5 to all stats +30 Movement speed) and Hat + 50hp (useful for low HP classes)
After your tutorial you will be automatically headed to Gaiyan town
1. Get your first mission/quest.
GAIYAN TOWN

(NOTE: Death Penalty will only take effect when you reach Level 9! So feel free to die)
2. Go follow your quest by killing Poms.
3. At level 3, you can start Grinding ( REMEMBER: Pick up all loots for your Pots and Equipments )
4. At level 5, Complete your level 5 Set to be able to defeat stronger monsters ( PRIORITIZE the WEAPON and ARMOR)
5. GRIND AND GRIND TIL YOU REACH LEVEL 10
TAKE NOTE!
Collect SEEDS and FRUITS for the repeatable quest from CUTTER(PASSIONATE COLLECTOR) at the Gaiyan Town.
GAIYAN PLAIN

6. At level 10, Complete your level 10 Set or better yet Upgrade them to +3 if you have enough Gold. Again, PRIORITIZE your Weapons and Armor)
7. After that, you can now Proceed to the next map which is the Gold mine, and start GRINDING again til you reach level 16.
GOLD MINE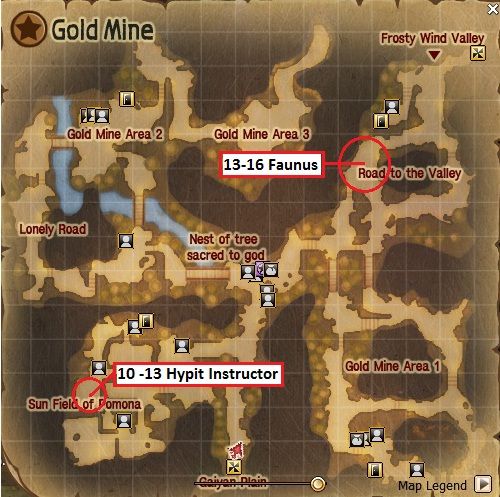 8. At level 16, Go to Frosty Wind Valley and your 1st target for grinding is the Sick Capricorns
( NOTE: This map is a PVP Area, so if you want a peaceful leveling go to Channel 3 and Ignore those Warfreak People and just kill them when you got Stronger)
9. Collect WEAPONS and ARMOR loots from the monster for the Repeatable quest from CUTTER at the Gaiyan town.
10. When you reach level 20, You will be able to Get your Quest for your SECOND JOB. after that, you can start replacing your Equipment to level 20 set. Also, you can obtain RARE items from the monsters ( THAT'S WHY I LOVE GRINDING)
11. After that, you can face the Axe Bears and Furious Axe bears. GRIND MODE AGAIN til you reach level 23.
FROSTY WIND VALLEY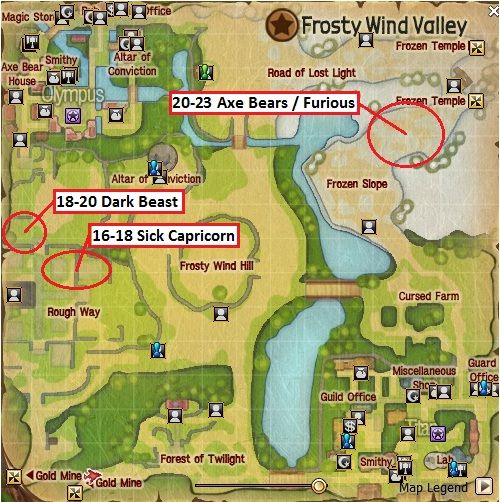 12. At level 23, You are on your own now. Go follow the Grinding Spots and thats it. HAPPY LEVELING =)
FROZEN TEMPLE