Ecol Tactics Online Beginner's Guide
Ecol Tactics Online Beginner's Guide by LuvAngelNana
Dungeon & Raid SYSTEM
Dungeon without limits! Challenge without limits! Dungeon and Raid Boss Map with variations and scenarios that will not make you bored adventure in Ecol Tactic. Here you can find rare items and mercenaries Legend.
Skill Stone
By having the skill Stone then your character will gain a unique skill, to face and develop strategies that will battle you do next.
• Type of each Skill Stone can be installed on any class, with different numbers.
• You can equip your character with skills appropriate to the class contained on Skill Stone.
• You can use the Skill Stone to suit different levels of rock them.
[Number] Use skill Stone
Fighter: 2 pieces
Archer: 3 pieces
Cleric: 4 pieces
Wizard: 3 pieces
Upgrade Skill Stone
1. Stone Basic skills: can be obtained by following every Stage Battle with certain possibility.
2. Use of Stone, automatically Action skill can be used when the stone used during the battle.
3. Using Skill and Buff, If the stone has been collected, it has been determined you have the opportunity to enhance the ability of the buff skills.
• Stone skill can be upgraded three times. The higher the level of upgrade it will
the effect on the strength and range of skills.
• You can collect a number of skill stone, and bring it to the NPC in order to
upgraded but will not always succeed.
Ecol Tactics Online Class
Job Early
Fighter
A true fighter who has a very good ability to fight at close range. It has a strong physical attacks among other Class. But it is not resistant to magic attacks.
Archer
The type of fighter who has exceptional talent in a remote attack. Has excellent agility. But very vulnerable when attacked from close.
Witch / Wizard
Having a defense that is not too high compared to the other classes, but have magical powers sangatkuat.
Cleric
Having a professional skill and medical rehabilitation. Having a physical and spiritual attacks. But having a defense that is not too high.
Second Job
Warrior
Advanced class of the Fighter with a physical attack skills, the ability to regenerate HP is better than first class.
Ranger
Advanced class of Archer is excellent in long-range attacks but has shortcomings when attacked from close range.
Priest
Advanced class of Cleric who has healing abilities.
Warlock / Sorceress
Advanced class of the Witch / Wizard.Wizard who has better skills and have the strongest magic with some additional skills.
Legend Colosseum
Be legend strongest in the Colosseum where gamers and mercenary register to be able to enter the area of ​​the fight, here you can survive or challenge another player and get useful additional points to increase your rank character.
Participating in the Colosseum
The picture below will explain how you can participate in the Colosseum
1. Click on the top right button shown in the figure below.
2. The figure below shows the place so that you can set up your party.
3. If the party has been set up so you can press the Finish button as shown in the figure below.
4. After step 3 completed 1 until then you are able to challenge the existing players in the Colosseum
System Upgrade
At this stage in the way you explain how to upgrade your items.
Bring items that are required to upgrade the Blacksmith who are in every village.
You must have a "recipe" to make the upgrade process. There are also several levels for every recipe, the higher the item is in production it is difficult to get the material is needed.
Upgrade item level 10 have a greater chance of failure, compared level items underneath.
PvP SYSTEM
In Ecol Tactics Online is very challenging. PvP system where the players can challenge other players, this tactic in PvP mercenary strategy and placement is critical winning and losing in PVP.
You can fight other players in PvP who was in the game.
You will get a "gold", experience, items when winning PVP.
Click on the "PVP stadium" in the upper right of the game screen to get into the room PVP.
The entrance to the channel corresponding to the level PVP.
You can also invite players who are listed as friends on this PVP feature.
Mercenary
What is a Mercenary?
In Ecol Tactics game online, you can use mercenaries to help you cope with any fight. By bringing strong mercenaries, then you can use a more varied tactics.
How to Get Mercenary?
You must be possessed "gold" to be able to buy mercenaries.
Like most mercenaries have four basic classes are: fighters, archer, cleric, wizard. Which consists of three levels.
Mercenaries will appear rare despite the odds. Compared with ordinary mercenaries, their ability is much better, with a rare mercenaries, you can develop a better game tactics.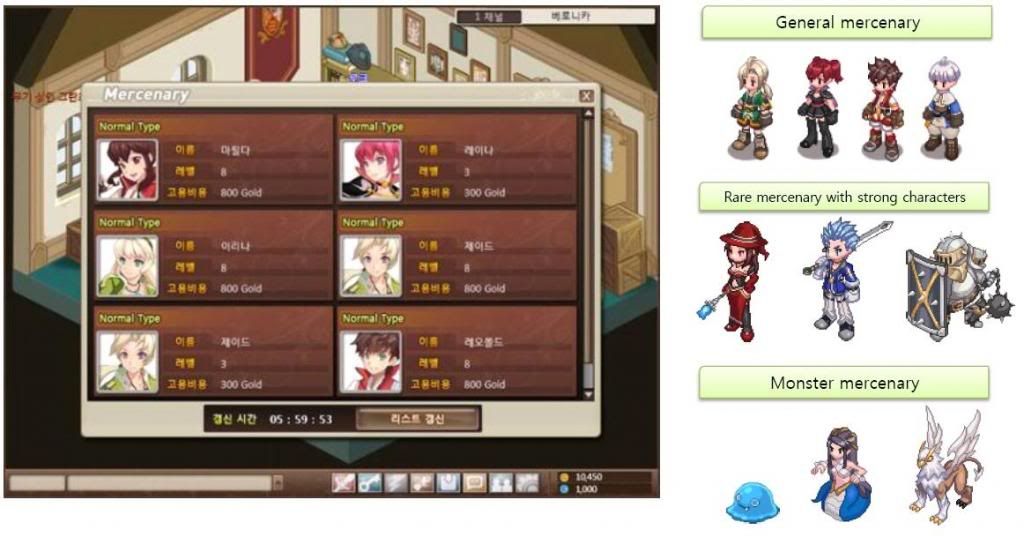 Here's how to get the picture Mercenary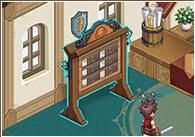 Board on the right is a place where you can hire mercenaries.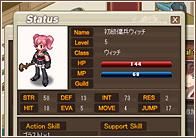 When you choose a list of mercenaries, hence the name, level, class, ability status value, skill retention will appear. Do not forget to buy mercenaries higher you need more gold.