DK Online Paladin General Guide
DK Online Paladin General Guide by mrvayl
WARNING :
MY GUIDE IS NOT 100% PURE TO ANY SELECTIVE PLAYING STYLE. THIS GUIDE IS FOR THE MAIN PURPOSE OF AN IDEAL WAY OF CREATING A PALADIN TO YOUR CHOOSING (DPS/Tank/Support). I WILL BE GIVING MY MAIN OPINIONS OF WHAT MAY SEEM BEST FOR SKILLS AND STATS FOR YOU TO GET AN IDEA OF WHAT TO ALLOCATE WHAT.
PLEASE BE AWARE I WILL NOT BE LISTING ON WHAT RUNES AND EQUIPMENT YOU WILL USE. DEPENDING ON WHAT TYPE OF ROLE YOU TAKE AS A PALADIN IS ALL CLEARLY UP TO YOU! ONLY ADVICE I CAN GIVE YOU IS THE RUNES THAT ARE GOOD THAT WILL INCREASE YOUR STATS TO YOUR BUILD YOU MAKE! EQUIPMENT SHOULD BE NEAR A GOOD LVL TO CAP AND BE +9 IF YOU DON'T WANT IT TO BREAK IF YOU'RE A DAREDEVIL THEN GO FOR +15!
What is a DKO paladin?
" Paladins are holy warriors, guardians of the light who support the team with the strength of the faith. Paladins are united by a strong belief in the Goddess Dione and possess the power to bolster their allies. Those who choose the way of the Paladin ride into battle with the power of the gods inside them. "
" Ordained by the Goddess Dione and possessed with righteous fortitude, they're equally comfortable assaulting the enemy front line with the vanguard or supporting their allies from the rear. "
Choosing your role as a Paladin ….
Depending on your playing style you will have roles as you progress your Paladin in the world of DK Online. Roles you may look at are DPS, Tank, and Support. These three roles are all depending on how you play or want to be either for PvE or PvP.
TANKS
Tanks are players that may use the 2h sword and have more of a focus build around ATK : DEX. They're players that take hits and can do massive amounts of damage to chunk players HP. These players are the main focus of protecting and usually damaging in both PvE and PvP.
DPS
DPS are players that will be using 1h & shield. Primarily focusing with CON : ATK are players that do certain amount of damage while still maintaining their HP. They may not hit as much as Tanks, but they get targeted less compared to the Tank.
Support
Supportive Paladins can either use 2h or 1h & shield, but may go with the 2nd option for higher defense. They will probably focus on some ratios to CON : INT or INT : CON. These type of Paladins will focus on primarily Healing/Debuffing/Resurrecting and DPS.
*** Hybrid Paladin is really sketchy as of right now to me since this game targets mainly for the PvP crowd and that of Siege Wars it may not come in handy out of PvE. That is my 2 cents unless I can get some info about it.
THE SKILLS OF PALADIN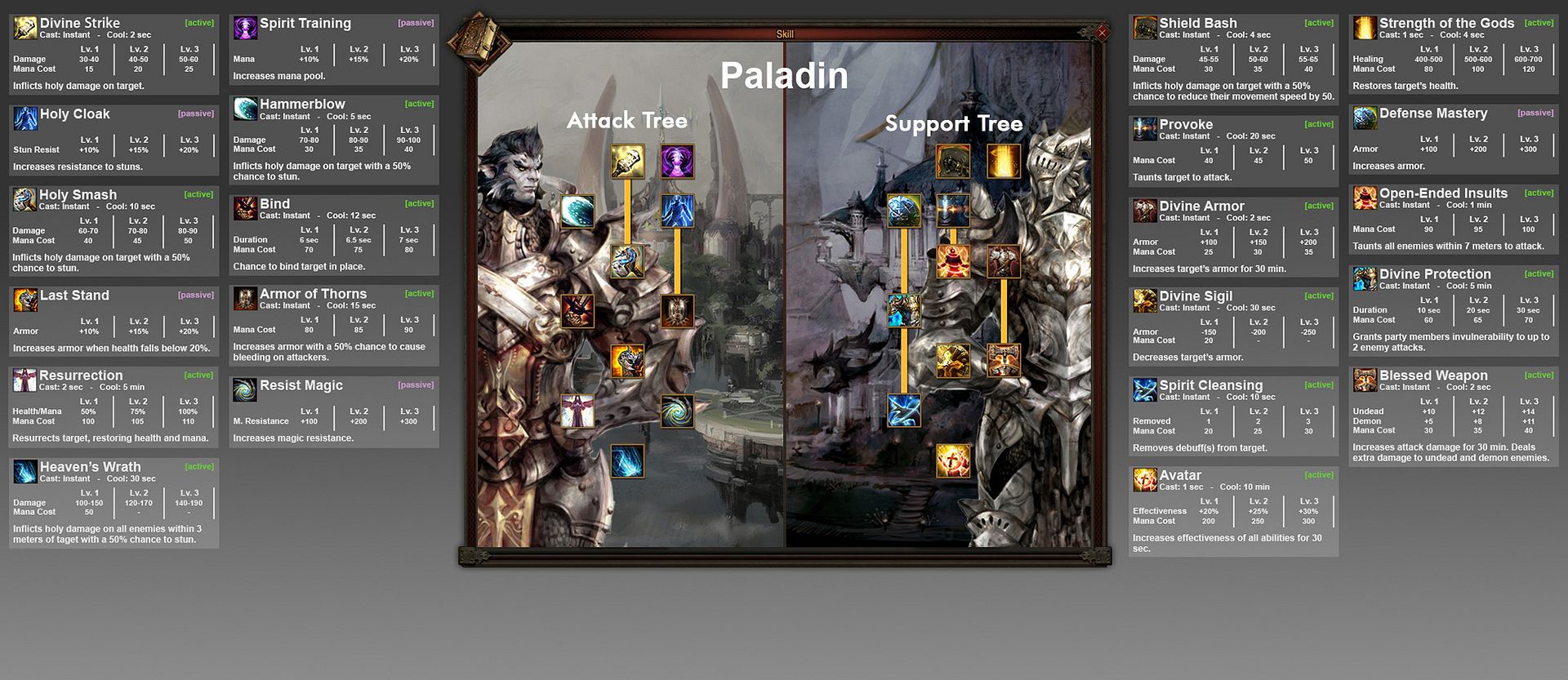 ATTACK TREE
Divine Strike [A] – This will be your basic DPS skill. Keep at required lvl to do appropriate DMG.
Holy Smash [A] – Can get to Lv 2 or MAX . Gives the Status Effect : Stun 50%
Hammerblow [A] – Max this skill out since it does a higher damage rate by 10 then Holy Smash however you can just keep it at Lv 2. Its up to you. Gives the Status Effect : Stun 50%
Bind [A] – You can keep this skill at Lv 1 however you can use this skill to hopefully bind a player and redo a stun chance. Its up to you.
Spirit Training [P] – I recommend maxing this skill out for a higher mana pool.
Holy Cloak [P] – Max this skill out to have higher resistance to stun.
Armor of Thorns [A] – I would keep this skill at Lv 1 however you can get it to Lv 2. Gives Status Effect : Bleeding 50%.
Resurrection [A] – I would max this skill out so you can revive your teammates or your healer in PvP and PvE.
Resist Magic [P] – Max this skill out to have higher resistance to magic.
Last Stand [P] – I would get this skill if you're a Tank primarily and max it out. Increases your DEF when HP < 20%.
*** FINAL SKILL : If you choose not to get Avatar
Heaven's Wrath [A] – Get to Lv 2 or max the skill out for higher DMG input. It targets all enemies.
SUPPORT TREE
Shield Bash [A] – If you're a Tank ignore this skill. If you're get to Lv 2. Gives Status Effect : 50% Stun 50% decrease in Moving Speed.
Strength of Gods [A] – Keep at required Lv to your playing style.
Provoke [A] – Good agro skill that targets 1. Keep at required lvl for O-EI.
Open-Ended Insults [A] – Max this skill out if you're a Tank so you can target all enemies and increase aggro for monsters to target you.
Defense Mastery [P] – Max this skill out for higher defense.
Divine Protection [A] – Keep at Lv 1 or 2. Good for protecting yourself or others in PvE or PvP.
Spirit Cleansing [A] – Keet at required lvl to your playing style. Very useful in PvP against SM.
Divine Armor [A] – Good skill to have to increase players DEF. Keep at required lv to your playing style.
Blessed Weapon [A] – Good skill to have if you're a Tank or DPS. Good skill to increase your weapon ATK.
Divine Sigil [A] – Great skill to decrease targets DEF depending on what you have it Lv at. IMO really good skill for any role you choose.
*** FinalSkill : If you choose not to have Heaven's Wrath.
Avatar [A] – Get to LVL 2 or max the skill out. The skill increases your usage of skills by 30%.
credit to blueberry, lightadept, LordRapthorne and Ona.
WHAT STATS GIVE FOR PALADIN: :
If you're planning to play Paladin its best to have the Paladin to look primarily on your role. However on this list I'm gonna list down what the stats do and depending on what ratio you want to plug in for your character that is all up to you.
! NOTE ! 
Everytime you level up you get 1 stat point to increase.
STRENGTH : Increase in ATK and CRIT.
CONSTITUTION : Increase in Health and HP regeneration.
DEXTERITY : Increase for evasion and accuracy.
WISDOM : Increase in MP and MP regeneration.
INTELLIGENCE : Increases your Healing ability.
credit to Bryan.Fury for correction on stat meaning
Thank you for reading and I would love the feedback and comments on hopefully helping me make this guide better usage for not only myself, but for others who want to take this route for a HIGH DEF paladin! If you're going to be using my guide please give me credit or link me to your skill build guide if you decide to make one! Thank you and hope to see you all online and enjoy playing!