Audition Love Party Guide
Audition Love Party Guide by xKEIx
Introduction
Love Party mode is only available to wedded couples and it enables them to
boost their relationship further by going through a series of license
tests [same with the ones we do when we level individually].
Making a Love Party Room
For you to participate in a love party room, you only need to fulfill three requirements:
* You and your couple need to be registered and completed the Wedding Party license
* Couple level [Love Party can only be done every after five levels]; you need to be at least couple level 6 to open a Love Party room
* Love Party Pass/Ticket, which can be bought at the Fashion Mall for
only 1395 AP. Like Wedding Party, only males can buy the ticket.
Playing the Game
The Love Party room is similar with Ballroom mode, the difference is that you can't play with other couples and you need to fulfill the requirements set in each game:
* Love Perfect – Synchro Perfects or Hearts or the number of perfects you and your couple made at the same move
* Perfect – Individual perfects either you or your couple executed
* Score – Sum of the scores both of you accumulated throughout the game
Once you have completed all the necessary requirements, you'll pass the license and you and your couple will notice an upgrade with your wedding rings. Whether we have the same rewards with other Auditions or not is yet to be known, but in AuditionEU, the couple gets a x2 EXP and DEN card plus 10,000 den. Not bad.
In addition, if you have a minimum of five observers, all the observers will be given EXP or DEN bonuses depending on the roulette shown at the end of the game.
If in case you fail in completing the license, you are allowed to have three attempts to finish the requirements. After three attempts, the Love Party pass will no longer be used and you need to purchase another one. I think it's the same with the Wedding Pass, though it's not yet confirmed if the requirements will be decreased for every failed attempt.
How to Get Couple Points
For your couple to level, you'll be needing to earn couple points. You can get this by playing in-game, and the points depend on the modes you're going to play:
Couple Dance [4-key, Expert and 8-key] and Ballroom Mode [4-key and 8-key] = 3 Couple Points
All Other Modes [Normal and Team mode] = 2 Couple Points
Once you reach a certain number of points, you and your couple will gradually increase your couple rank.
Note: You and your spouse both need to be playing to be able to earn your couple points. You'll still gain hearts even if you are not teammates.
Rankings
To check your couple status, just right-click your character then select View Character Information. You'll notice a change in the character window, and that includes your couple level, couple points [or hearts] and couple ranking.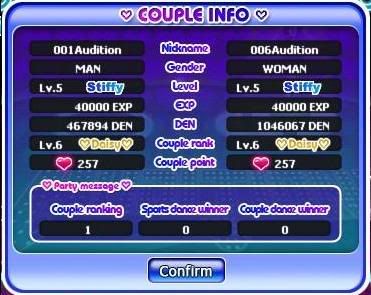 Love Party Table
Couple Lvl :Number of Hearts



♡Lavender♡
Level 1 ♥ 0
Level 2 ♥ 20
Level 3 ♥ 60
Level 4 ♥ 120
Level 5 ♥ 200

♡Daisy♡
Level 6 ♥ 300 (Love Party – Opera 106bpm)
Level 7 ♥ 420
Level 8 ♥ 560
Level 9 ♥ 720
Level 10 ♥ 900
Level 11 ♥ 1,100

♡Saffron♡
Level 12 ♥ 1,320 (Love Party – Samba 120bpm)
Level 13 ♥ 1,560
Level 14 ♥ 1,820
Level 15 ♥ 2,100
Level 16 ♥ 2,400

♡Cuphea♡
Level 16 ♥ 2,400 (Love Party – Get Out 120bpm)
Level 17 ♥ 2,720
Level 18 ♥ 3,060
Level 19 ♥ 3,420
Level 20 ♥ 3,800


♡Aster♡
Level 21 ♥ 4,200 (Love Party – *song*120bpm)
Level 22 ♥ 4,620
Level 23 ♥ 5,060
Level 24 ♥ 5,520
Level 25 ♥ 6,000

♡Freesia♡
Level 26 ♥ 6,500
Level 27 ♥ 7,020
Level 28 ♥ 7,560
Level 29 ♥ 8,120
Level 30 ♥ 8,700

♡Asphodelus♡
Level 31 ♥ 9,300
Level 32 ♥ 9,920
Level 33 ♥ 10,580
Level 34 ♥ 11,250
Level 35 ♥ 11,940

♡Caladium♡
Level 36 ♥ 12,640
Level 37 ♥ 13,360
Level 38 ♥ 14,100
Level 39 ♥ 14,860
Level 40 ♥ 15,650


♡Violet♡
Level 41 ♥ 16,550
Level 42 ♥ 17,470
Level 43 ♥ 18,420
Level 44 ♥ 19,380
Level 45 ♥ 20,260

♡Rosemary♡
Level 46 ♥ 21,160
Level 47 ♥ 22,080
Level 48 ♥ 23,020
Level 49 ♥ 23,980
Level 50 ♥ 24,960
*no pic. Sorry*
♡Gladius♡
Level 51 ♥ 25,960
Level 52 ♥ 26,980
Level 53 ♥ 28,020
Level 54 ♥ 29,080
Level 55 ♥ 30,160
*This post will be edited if I will get more information about Love Party. If you know something more please tell it here. If I wrote something wrong tell it too^^*