SkyRama Collections Guide
SkyRama Collections Guide by WitchWay
You will see a Postage Stamp – name collections.

If you click on the Postage Stamp, a screen will pop up showing you collections. (As seen below)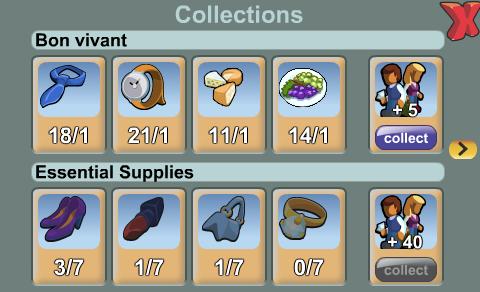 In the Collections are different categories of items that you will need to collect through your travels and your customers who stop at your Airport.
Below each picture is the a number.
The number on there Left of the slash is how many of this item you have.
The number on there Right of the slash is how many of this item you need to complete the collection.

Do I have to collect all the items in a collection before I can collect it?
Yes you have to have the designated amount for each item as shown on the right of the slash.
Once a collection is complete how do I collect it?
On each row of the Collection is a Reward box to the far right. In that box it says Collect. If you have completed the collection the items will be given to you.
Can you reuse a collection?
Yes you can use the collections as many times as you fill them up.

If you have enough items to use the collection 2 or 3 times will that work?
Yes as long as you have enough of the complete collection when you go to collect , the reward will be yours.
Are there only 2 collections?
No, there are many collections with different names. Use the arrow keys on the sides of the collection box to see different collections.